Frequently Asked Questions
Have questions? Find answers about Check-Out Plan here
Your Most Frequently Asked Questions
Send us your questions and we'll answer and share them here for the benefit of all Check-Out members
Although Check-Out Plan is designed to be easy to use, questions occasionally arise. Please find answers to the most popular questions asked by members, here.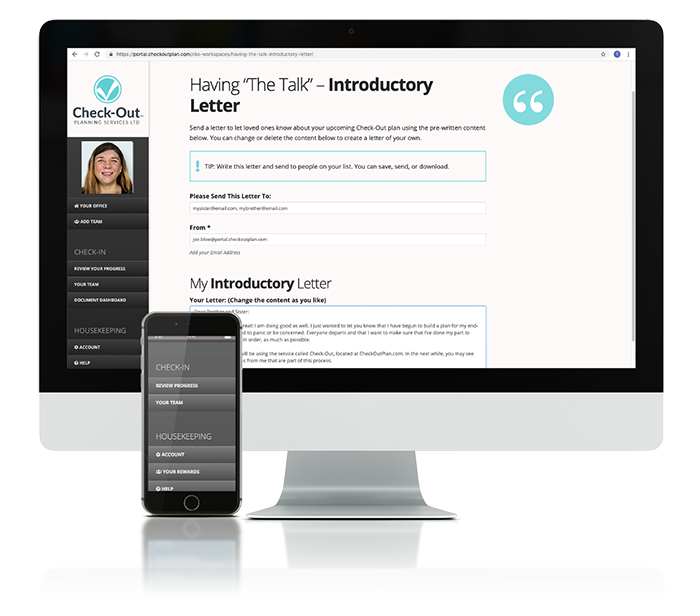 Questions about Membership
---
---
Can I invite family and friends to use Check-Out?

AbsolSure you can. Just click on the "Tell a Friend" link, located in the planning portal, and we'll send an invitation on your behalf!

Is having a Check-Out Plan the same as having a will?

No. A will or testament is a legal document the provides guidance on how people wish their property to be distributed after their death. Your CheckOutPlan can be an important part of your estate. Consult with your lawyer or Estate Planner to learn more.

What if I already have a will?

That's great! People who want their families to be completely prepared also have a CheckOutPlan which offers much more detail. Consult an Estate Lawyer on how to add your CheckOutPlan to your will.

I've Completed My Free Trial and I Love Check-Out! What Happens Next?

It's easy! The next time you log into Check-Out, you'll be directed to the Account page. Simply complete the payment process and you're done!
What happens to my Check-Out account after I pass away?

This is where your "Emergency Contact" comes in and It is important to let people know that you have a Check-Out Plan. Until a formal request is made though, we will encrypt, archive and save you plan for safe-keeping for up to five years.

Can I cancel my subscription?

Absolutely. Simply visit your Account page (located in the Office) to cancel your account. Depending on the time elapsed a refund can be issued.

Is there a minimum age to use Check-Out?

To use CheckOutPlan, members must of the age in majority in their jurisdiction, typically anywhere from 18 to 21 years old.

How do the monthly payments work?

Monthly payments are just an easier way to purchase your CheckOutPlan. Once you have completed 24 payments of $9.95/mo, your CheckOutPlan is yours.
No Credit Card Required
---
Get started and sign up for your free trial without the need for a credit card
Feedback
Questions about CheckOutPlan™
---
---
Why do I need a Team?

When you invite and then add people as Team Members, you provide them an opportunity to assist in the fulfilment of your wishes when the time comes. If no one knows about your plan or it's contents, how can they help?

How do I share my plan with my Team Members?

At the bottom of the form, click "Add to my CheckOutPlan" button and then select "Save". This will automatically move forms into the "My CheckOutPlan"dashboard and change their status to "Complete." Nice work!
What is that 'fine print" at the bottom of each page of my CheckOutPlan?

This is your own "ID Stamp." When you select "Add to my CheckOutPlan" + "Save," a form is generated with an "ID Stamp." It provides important information such as your name, account number, and the date and time the form was last saved. The form is also locked and watermarked, making it easier to prove that this is an authentic document from your CheckOutPlan™ account.
Do Unto Others
---
Do you know someone who could really use a CheckOutPlan of their own? Let them know here:
Tell Your Friends
Can I add photos and files of any size?

Check-Out offers generous upload limits on file sizes and can be found on all "File Uploader" boxes. Most are around 30 MB.

What kind of files can I upload?

Check-Out manages many file types with the most common being documents like DOC or PDF or image files such as JPG and PNG.
Why are there limits to how many words I can type on forms?

Because CheckOutPlan is designed to be printable on letter-sized paper, there are some space allowances.

Can I store my will and important documents in Check-Out?

Absolutely! Check-Out offers one place off-site, to keep your important documents.
Help and Inspiration Await
---
The Articles section offers advice on legacy planning and great stories. Are there other topics you'd like to see?
Feedback
Ready to Learn More? Visit Check-Out's Resources