Using Check-Out
Enjoy step-by-step progress
Check-Out is Designed to
Help You Plan…. Easily
Follow the Steps to Build a Plan that's Easy to Build and Easy to Follow
Support the loved ones left behind by providing a plan that is not only easy to build, but easy to follow. Prompts and tips are designed to help while Check-Out's step-by-step approach keeps you focused.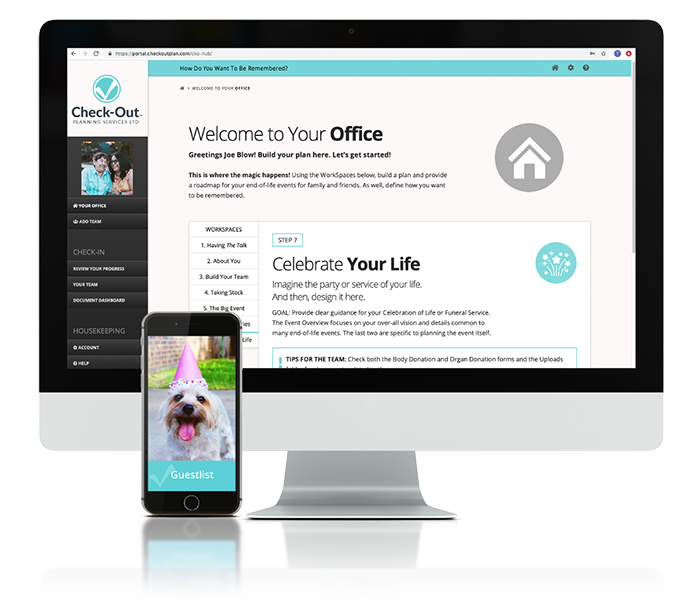 Check-Out's Steps to Success
For each area of your, life Check-Out offers a section to help you plan for events just in case:
---
More about Your Office
Within Check-Out, your plan is built and stored in "Your Office." From this central location, it is easy to navigate to each workspace or section. Here is an introduction to some of the key elements of Your Office and how they support the successful completion of your CheckOutPlan:
---
CheckOutPlan™

This is it! Your CheckOutPlan provides a concise guide to your wishes, allows approved team members to access and share your memories and more.

Using Check-Out

Need more support? This button takes you to an overview of the sections used to build your CheckOutPlan. Other resources include articles, FAQs and Help sections.
Team Dashboard

Use this shortcut to visit and manage the Team Dashboard where you can invite, add team members, edit or delete them as needed.

Review Your Progress

Assess the progress of your CheckOutPlan at a glance. The status helps you review your accomplishments and the items yet to be completed.
Using Check-Out is Easy
---
A successful Check-Out plan is not only easy to build, but should be easy for the team, and family and friends to act on when the time comes. Check-Out's guided, step-by-step approach makes building and sharing your personal plan easy.
---
Create your free account

Visit Your Office and get started

Communicate your plan with family & friends. Ask for their help or input

Take stock of your life. Decide who gets what, and why

Build a trusty team & share your plan when ready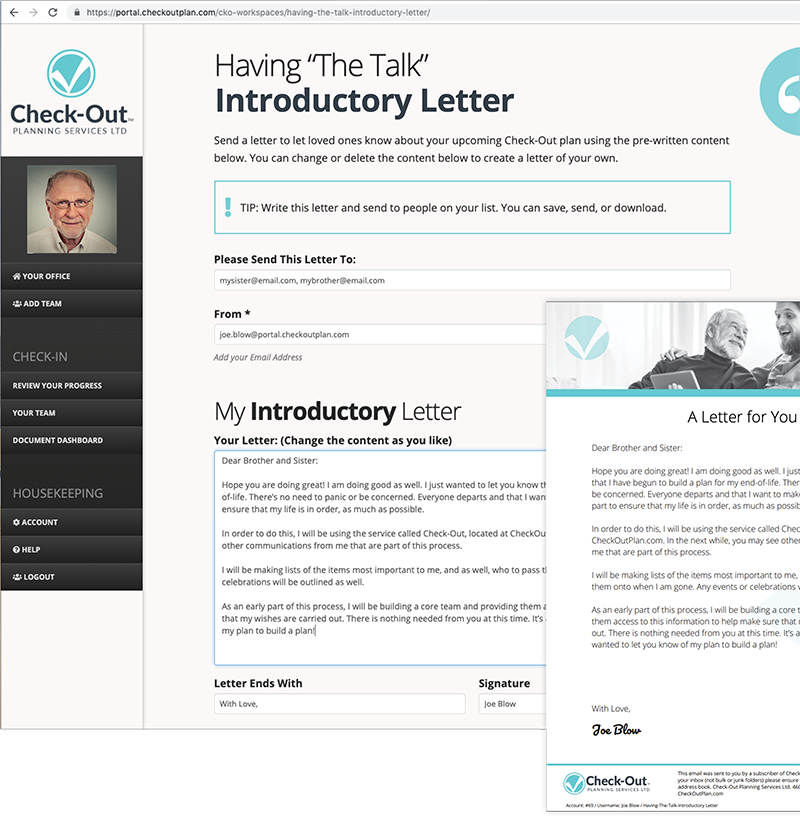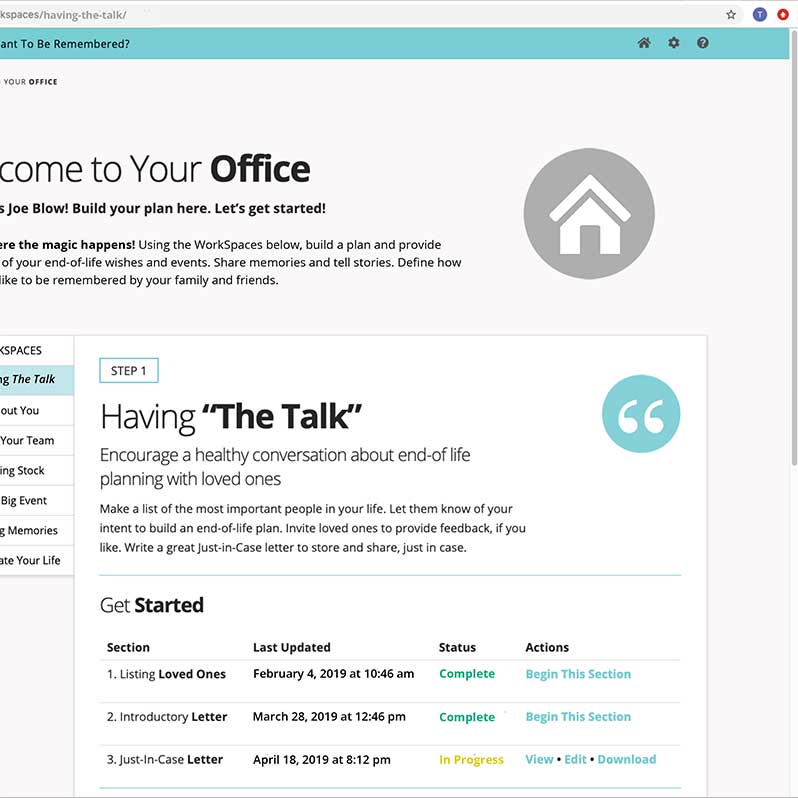 ---
Connect with Family
---
Engage family and friends by including them in your plan

---
Death is often one of the most difficult subjects to discuss. That's why our planning process begins with Having "The Talk." This section encourages constructive conversations with loved ones. CheckOutPlan makes it much easier with pre-written letters that can be easily edited as needed. Send these letters to the people in your life who need to know. Encourage family and friends to get involved with the planning process. Keep them engaged and informed.
---

Your Feedback Matters
---
Together, we're better. Please send your Check-Out comments, thoughts and suggestions here:
Feedback
People Love Using Check-Out
Happy customers say the nicest things
A Great Service

"Thank you for this. I will definitely recommend it to my network for sure. Check-Out is really, REALLY awesome. What a great service!"

K.R.

Everybody Should Do This!

"Check-Out was really easy for me. The prompts helped me stay on track and get things done quickly."

-L.L. BScN, RN

What a Great Service!

"Thank you for this – Check-Out is really, really awesome, what a great service!"
I will definitely recommend it to my network for sure."

– K.R.

Everything in One Place

"I love this idea of having everything in one place. It's full of ideas I've never thought about but are so important. Love it."

– S.M.

Strong Security

"SUPER comprehensive. I like knowing that lots of attention has been paid to security. Well done!"

– K.R.
Ready to Learn More? Visit our Resources section