Check-Out Real Value
*Monthly payments end at 24 months for a total of $238.88. Cancel anytime.
• All subscriptions include complete access to CheckOutPlan™
• Fees subject to applicable taxes
• Subscriptions are subject to our Terms of Use and Privacy Policy.
Purchasing After Your 7 Day Trial
1. An email with a purchase link will be sent to your email. Click the Purchase link
2. Log-In and you'll be directed to My Account
3. Click Purchase and complete the process
Note: Free Trials convert to monthly plans. Cancel anytime.
The Value of Protecting Family Relationships and Memories? Priceless
The best part of building your plan, and taking stock of your life? Check-Out makes it easy!
Subscribe to Check-Out today and support your family and friends when they need it most by providing a guide to your wishes and cherished memories. Use Check-Out's Steps to Success to save time, and prevent conflict. And, use the information you've gathered here to save time and money at the lawyers, accountants, or insurance agents…Today.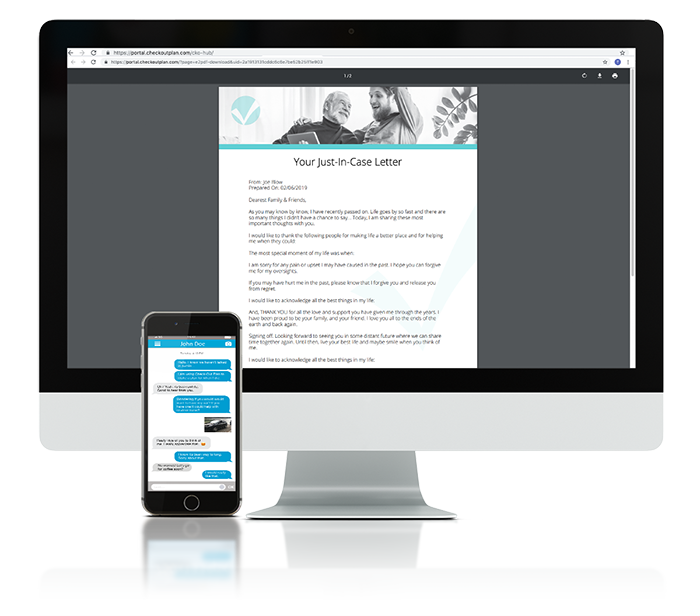 ---
Give the gift of CheckOutPlan to someone special and save 20%!
---
---
People Love Using Check-Out
Happy members say the nicest things…
Easy to use!

"I am happy with Check-Out. The pre-filled forms saved time and
said the things I wanted to say better than I knew how."

J. S.
On Having "The Talk"

Took away the fear

"I was afraid of my family's reaction, but by following the steps pro-
vided by Check-Out, I was able share this information with them is a way that made it ok. Thanks Check-Out!"

G.G.
On Having "The Talk"