Check-Out Value
*Monthly payments end at 24 months for a total of $238.88. Cancel anytime.
• All plans provide complete access to CheckOutPlan™
• Fees subject to applicable taxes and are charged in USD
• Memberships are subject to our Terms of Use and Privacy Policy.
At the End of Your Free Trial
1. The next time you log in, you will be directed to the Account page
2. Select One Time or Easy Pay and complete your purchase
3. Proceed to CheckOutPlan!


.
The Value of Creating a Legacy Plan for your Family? Priceless.
One place to store important papers and make a plan that provides direction when needed
Fire, theft and disaster. They can happen to any one of us at any time. Use your CheckOutPlan to store important documents and photos. Our Steps to Success save time and prevent wasteful spending. Provide access so family and advisors have access to your information as needed 24 / 7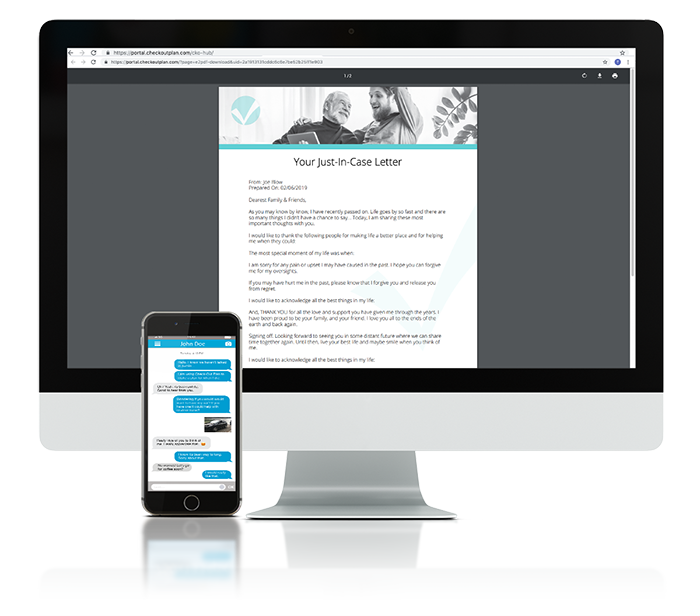 ---
Give the gift of CheckOutPlan to those closest to you
---
---
People Love Using Check-Out
Happy customers say the nicest things...
Easy to use!

"I am happy with Check-Out. The pre-filled forms saved time and
said the things I wanted to say better than I knew how."

J. S.
On Having "The Talk"

Took away the fear

"I was afraid of my family's reaction, but by following the steps pro-
vided by Check-Out, I was able share this information with them is a way that made it ok. Thanks Check-Out!"

G.G.
On Having "The Talk"